As summer draws to an end and the autumn chill starts creeping in, it's time to start thinking about bringing out your winter clothes and putting your summer clothes away in storage.
If you have limited storage space, how you store your unused clothes and accessories is important to make the most of the space you have. Storing seasonal clothes out of the way when they aren't needed avoids overflowing wardrobes and drawers. To help make the change and to keep your belongings in the best condition, here are some of our top tips.
Sorting through your summer clothes
Begin by taking all of your summer clothes out of your wardrobe and go through them piece by piece. Decide there and then if there are any pieces that you no longer want/need, here are some questions to ask yourself:
Does the item fit?
Does the item make you feel good when you wear it?
How many times have you worn it?
Are you likely to wear it next year?
Try to be strict with your choices, especially when your storage space is limited. Anything that you no longer need can be sold or sent to a charity shop.
Wash and prep your clothes
Once you know what you want to keep, you can start to organise them ready for storage. Consider categorising them into boxes, eg. one box for summer dresses, one for tops, one for beach items and so on. You can label the boxes to make it easier to find everything next year.
Before storing, make sure all items are clean, any dirt or sweat on the clothing can lead to unwanted stains. Also, ensure all items are completely dry before storing them away, the moisture will cause mildew and mold growth.
When you come to putting your clothes in their boxes, it's a good idea to fold your clothes using Marie Kondo's KonMari method, click here to learn how. This is a great method to make the most of the space and also reduces the amount of crease lines.
Choosing your box and where to store them
When it comes to storing your clothes, remember to keep them away from direct sunlight, in an area that doesn't get too hot or too cold. Under the bed or in a cupboard are your best options. Try to avoid lofts, attics and garages, but if you are planning on storing clothes there, put them in an airtight bag before storing in your boxes.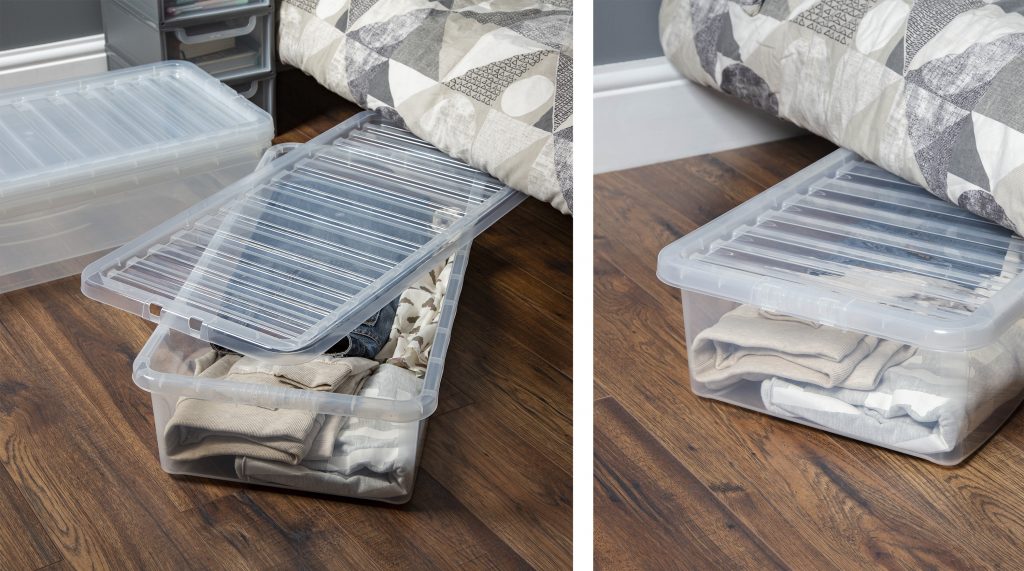 We'd recommend our Wham Crystal storage range, chose from clear, tint pink or tint blue colour options. They're clear so you can easily see the contents, and come in a variety of sizes. To make the most of your space, we'd suggest measuring the area you wish to use for storage and finding a box or boxes that fill as much of that space as possible. The Wham Crystal range also has boxes specifically suited to underbed storage.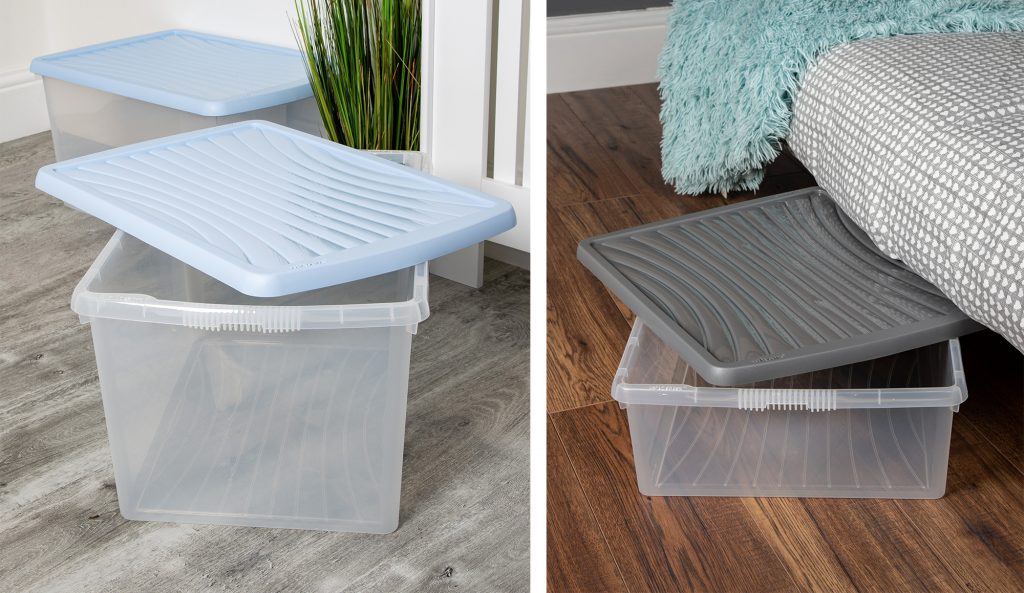 Alternatively our Wham Box range also offers many sizes and comes in two stylish colour ways, a clear base with either a cool blue or steel coloured lid.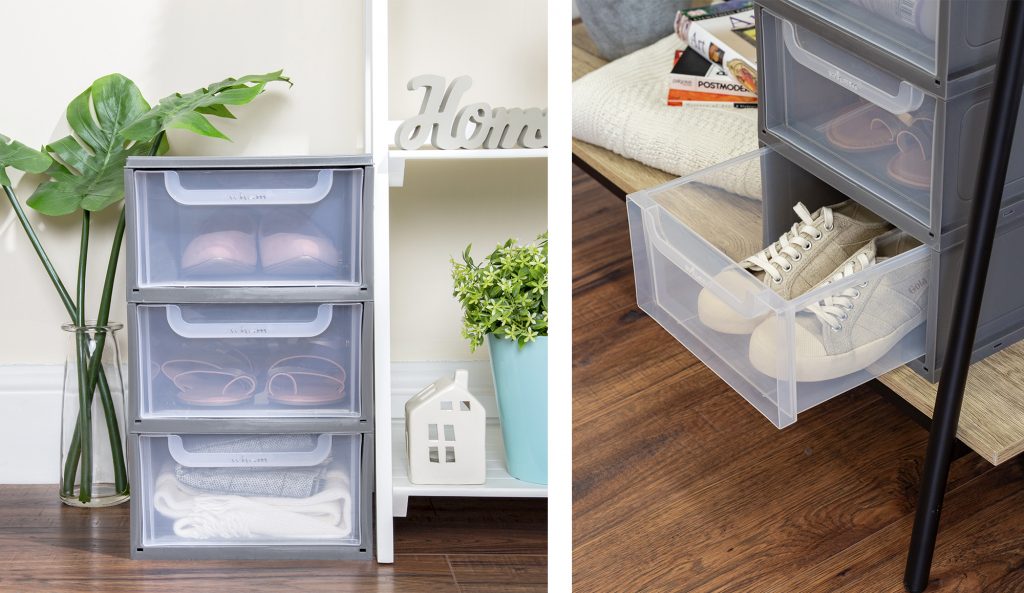 When it comes to storing away summer shoes, you can keep them safe and protected with the Wham Uni Store 8 boxes. They lock together either on top of each other or side by side to make the most of your available space.
Organising your winter wardrobe
Once the summer clothes are out of the way, you can give your wardrobe and drawers a clean whilst they're empty before beginning to store your winter clothes. Again this is a good opportunity to sort through your everything and sell/donate any that you no longer want or need.
Next, separate your clothes into what needs to be hung in the wardrobe and what can be folded away in drawers. Some clothes are best suited to being folded rather than hung up, these include: knitwear, t-shirts and activewear, hanging these items can cause them to become misshapen. Jeans and scarves can be hung or folded, decide which is best for you based on the space you have. Dresses, shirts, coats and trousers are all best stored hung up in a wardrobe.
Organise your clothes in a system that works for you, some of the most popular ways to categorise your wardrobe are by colour, item or occasion.
For example:
Black, grey, blue, white…
Shirts, skirts, trousers, coats…
Workwear, casual, evening…
Or a mix of a few, for example:
Black – shirts, skirts, trousers, coats
Grey – shirts, skirts, trousers, coats…
Whatever system you chose make sure it works for you so that you can stick to it throughout the year. This will keep your wardrobe organised and neat whilst also making it easier to find everything you need.
Shop the Wham Crystal range here
Shop the Wham Box range here
Shop Uni Store 8 here
If you've used Wham products to store your summer or winter clothes, let us know by tagging us in your photos on social media.