PushPan has already won acclaim from the media and high profile celebrities. They are a favourite of Mary Berry of 'Great British Bake off' fame and professional bakers alike.
Now it's your turn and you will see how easy it is.
No more mixture leaking around the edges of the cake pan base making it difficult to remove your cake in one piece!
The new unique way of making your baking turn out perfectly every time is as easy as 1,2,3 !
It is that simple! Simply brilliant!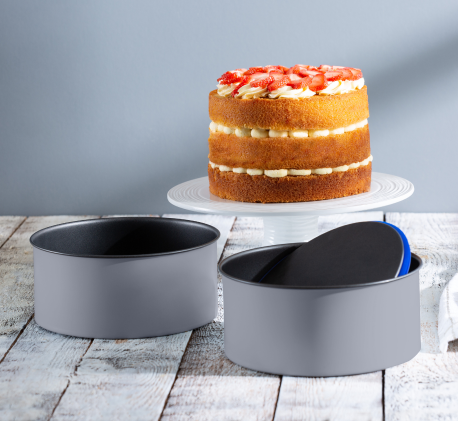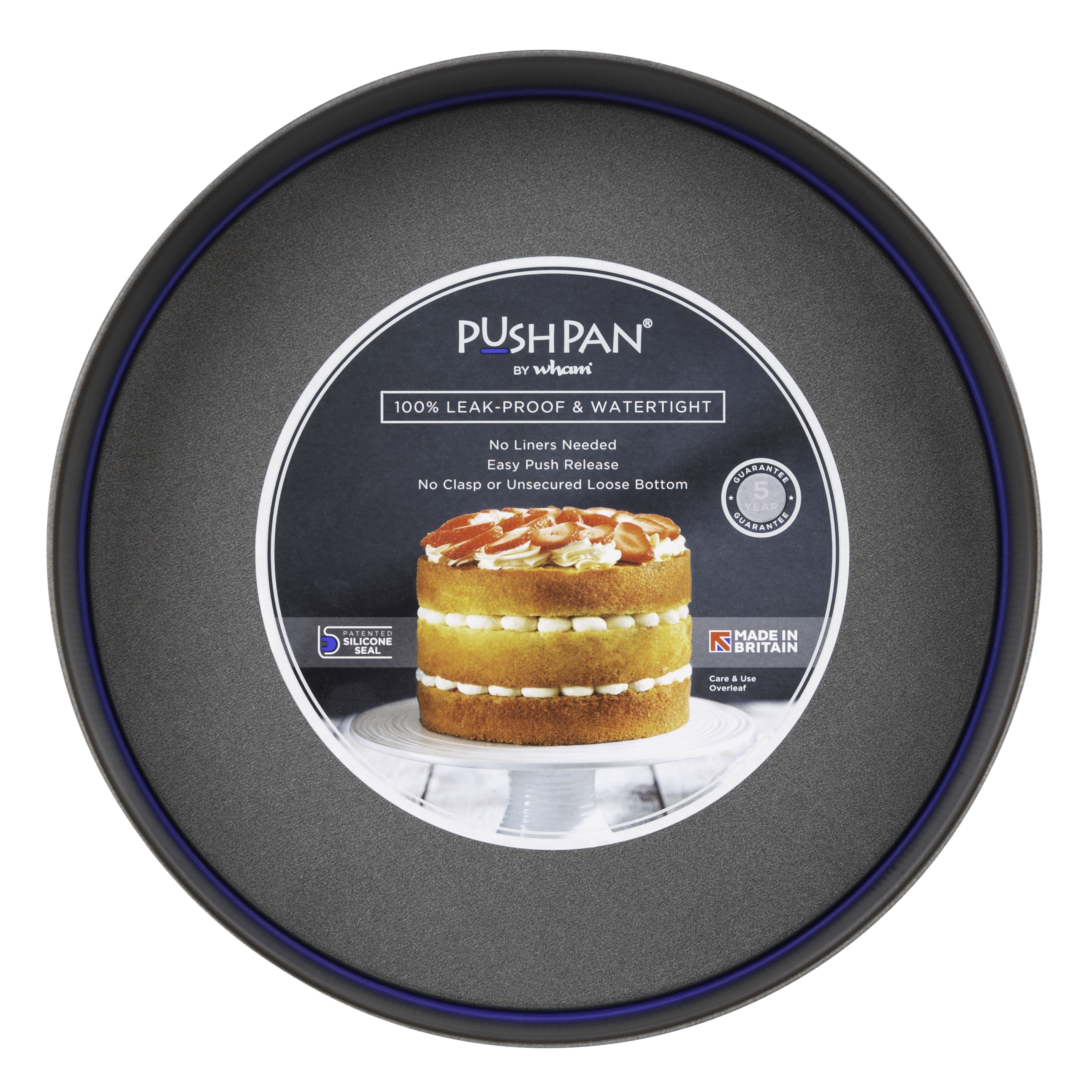 The silicone seal ring in the base is the secret to PushPan – it keeps all the cake mixture where it is supposed to be – in the cake pan, it will even hold water!
So if you bake a cheesecake using the traditional method of standing the pan in a tin surrounded by water for a gentle bake, there is now no need to worry about water getting into your cheesecake or your cheesecake mix leaking out!
Then when your baking has cooled, all you do is push the base and watch your creation rise out of the cake pan.
PushPan is easy to clean – just follow the care and use instructions. There is no need to remove the silicone seal for cleaning as it is locked into the base. Your PushPan will simply wipe clean and be ready for its next task.
When making a cheesecake or a flan dessert where the base needs to be cooled you can put your PushPan straight into the fridge or freezer.
PushPan is a product that only has the limits of your baking imagination.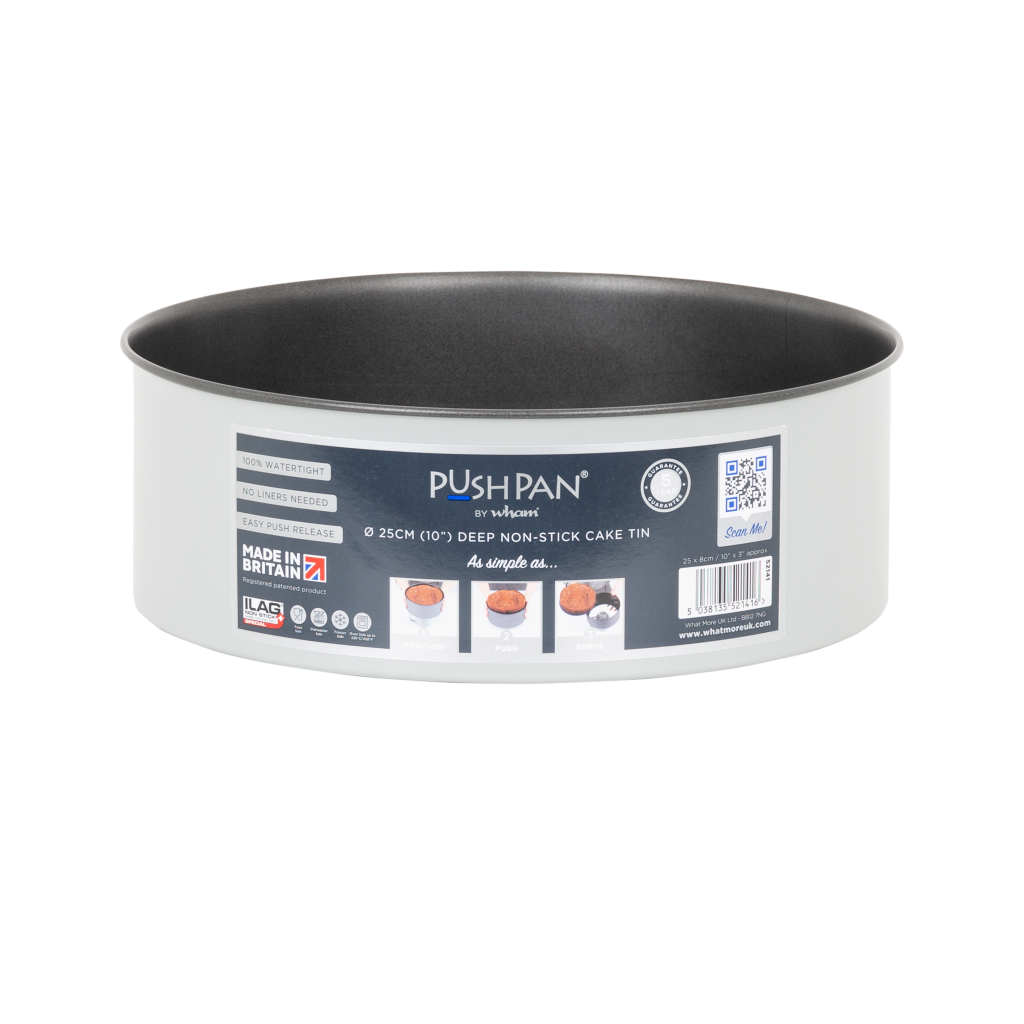 Sizes
There is a full range of PushPans – different sizes for different uses and occasions – once you have used one – you will never go back to baking the way you did before!
18cm Shallow round 
8 x 4.3cm (7"x 1¾")
20cm Shallow round
20 x 4.3cm (8 x 1¾")
23cm Shallow round
23 x 4.3cm (9"x 1¾")
15cm Deep round
15 x 8.5cm (6"x 3½")
18cm Deep round
18 x 8.5cm (7"x 3½")
20cm Deep round
20 x 8.5cm (8 x 3½")
23cm Deep round
23 x 8.5cm (9 x 3½")
25cm Deep round
25 x 8.5cm (10 x 3½")
Coating
Push Pan uses ILAFLON® Select R, an Ilag Special non-stick coating and used in the correct way it will give you years of service with perfect turnouts and easy cleaning time after time.
This superb coating along with the leak proof base means that you do not need to bother with messy liners in the pan.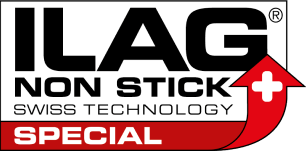 ILAFLON Select R Two Coat (SPECIAL)
"A universal two-coat system with good non-stick effect and good cleaning properties suitable for all baking and roasting applications."
"Having lots of guests at your table is a great feeling. It's good that in the kitchen you can rely on ILAG-Premium non-stick coatings, especially when they are used intensively."
This coating is designed for household, everyday use.
This two-coat system that sits in the ILAG SPECIAL range and provides good abrasion and stain resistance, it is a versatile system for both sweet and savoury baking. The excellent non-stick properties come from a dedicated non-stick PTFE top coat.
Care and Use
Overheating can lead to discolouration and will damage the non-stick coating.
All coatings are sensitive to scratches and cuts. Small scratches are visible, but do not lead to deterioration in the products performance.
You should only use nylon or wooden utensils in order not to damage the surface.
The use of small quantities of fat and oil during baking will considerably extend the life of your product.
5 Year Guarantee
PushPan is fully guaranteed against defects in materials and workmanship under normal household (non-commercial) use for 5 years from the date of purchase.
The guarantee does not cover damages caused by wear and tear, accident, misuse or damage to the interior including the seal or exterior of the product by overheating, neglect, attempts to remove the seal from the base or alteration.
Failure to comply with the care and use instructions will void the guarantee.
Recently won the 2019 Innovation Housewares Awards.  Awarded for Best Supplier Service Award and Kitchen Hero to What More UK Director, Tony Grimshaw OBE.
Environmental
This product is produced in the UK using UK sourced materials from like-minded sociably responsible companies ensuring that it has a low 'miles to market' minimising its impact on the environment.
The coating on this product is produced in an environmentally friendly process and then applied using systems which are highly efficient using the very latest in coating technology.
The full manufacturing process ensures that the final product meets the exacting standards we set for it and provides you with a product that will have a long life, giving superb performance day after day. No PFOA's are used in the production of the product, and it is BPA free.
Once the products life has ended it can be safely disposed of in your household metal recycling – where it will begin another cycle of its life.
(Check with your local council regarding kerbside recycling, whilst all recycled steel returns to the steel makers and is added to new steel, some councils will not accept coated steel in its collections.)