Hyndburn Scouts were excited to tour the What More UK factory, based in Altham, to find out more about the process of making the storage boxes and items they use every day.
We opened our doors to the local Scouts for an exclusive factory tour and Q&A with our staff. 18 Scouts from the 1st Oswaldtwistle St. Pauls Scout group took part in the tour.
Matt Hand, Production Manager at What More UK led part of the tour:
"I have never done anything like this before, but we have all been really looking forward to it! We wanted to show the children how the items they use every day are created, teach them a bit of the science behind it and also explain the importance of recycling. Before the tour of the machinery and factory we showed them a video about the materials we use to create our new range of boxes, the Wham UPCYCLED box. This new range is a bit different as it is made from items which would normally be thrown away or taken to landfill. The children were full of questions, were amazed by the size of our factory, and we are based just a few miles away from where most of them live too! They had a lot of questions which was wonderful, we tried to answer them all as thoroughly as possible; hopefully they had a fab time and have learnt something too."
Born and raised in Accrington, Stephen Lowe, BBC Radio Lancashire Presenter, joined the Scouts on their tour of the What More UK factory. With a passion for outdoor pursuits and getting involved with the local community, Stephen is a Scout Ambassador for East Lancashire and also Group Chairman of the 1st Oswaldtwistle St. Pauls Scout Group in his spare time.
Stephen commented:
"We have had a brilliant night here at Wham, it's been a privilege to show the youngsters what a fantastic manufacturing company this is right on our doorstep in Hyndburn. I want to say a huge thank you to Andy Holt for inviting us and also to all the members of staff that have been here tonight showing us around and answering the 3 million questions our scouts have put to them! I can't believe it, it's like having NASA here in our own town with the robots, machinery and products being shipped all over the world. It has been fantastic to see and an honour to have an inside view.
After the tour we gave UPCYCLED boxes to the scouts to help with storage in their HQ, giving them a sturdy and long-lasting solution for organising all their kit. Every child also received a small UPCYCLED box, a lunch box and a re-useable folding water bottle to take home, encouraging them to ditch the single use plastics and opt for items that will stand the test of time!
Garry Ireland, Operations Director at What More UK added:
"We don't normally have children walking around the factory but we felt it was something really important to do. We want them to feel connected to local businesses, be aware of where products come from and how they are created. We are very proud to be based here in Altham and always looking to support and engage with the community around us. Some of the children had wonderful questions, they were particularly interested in just how far away we ship products and how long it takes them to reach places like Australia and Dubai. I hope we have inspired some young minds today, there definitely seemed to be a few scientists and future entrepreneurs amongst them!"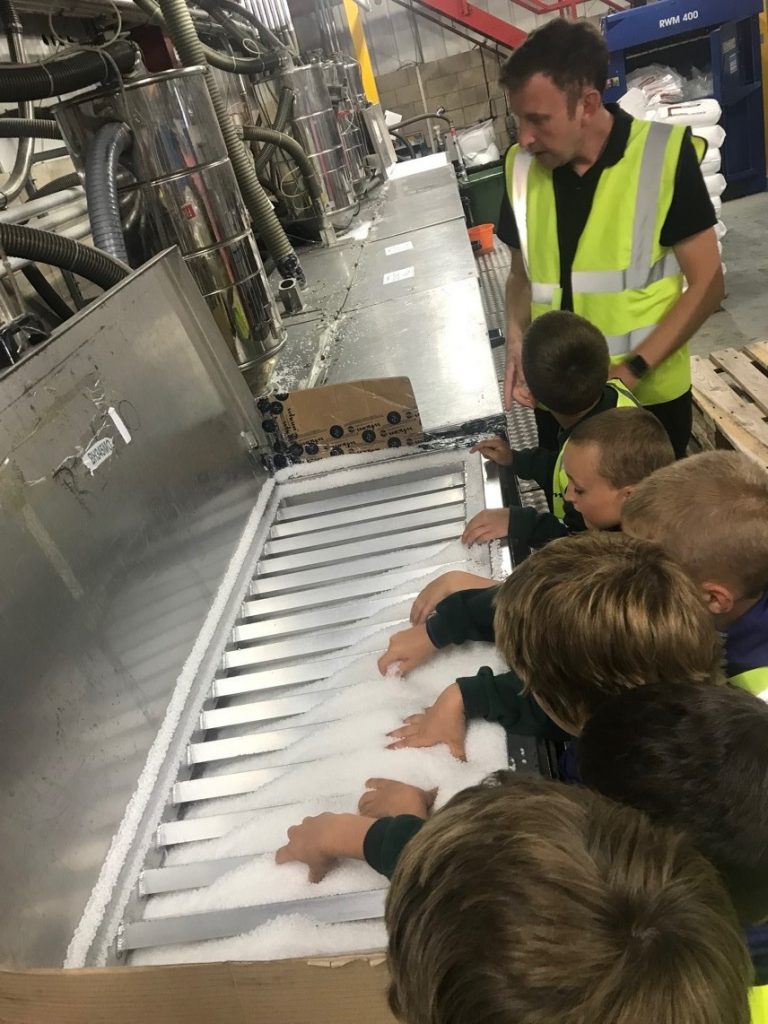 Matt Hand, Production Manager, explaining to the children which raw materials go into plastic products to.